Save the Small Islands!
You may have heard recently about a series of islands that were being marketed for development in the Intracoastal Waterway. The Small Islands, as they were called, are located in the viewshed of Jacksonville Beach's Cradle Creek Preserve, and can be seen from the Butler Boulevard Bridge. The Islands gained a lot of attention on social media, and the story was even picked up by Shark Tank star, Kevin O'Leary, who promoted the sale of the islands in a video that went viral. In response, over 3,000 people signed a petition to save the Small Islands.
As a result of the public outcry, North Florida Land Trust got in touch with the owner, who recognized the conservation value of the property and agreed to enter a contract to sell the Islands to NFLT. Now, we must raise $350,000 to purchase and preserve these islands to ensure they are never developed.
Help save the Small Islands with a donation today! Join this grassroots effort to ensure these islands and the surrounding marshes are never harmed.
WHY ARE THE SMALL ISLANDS SPECIAL?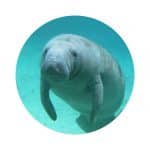 Home to wildlife
The small Islands property is comprised of vast expanses of salt marshes and oyster beds interspersed with several small upland islands. Tidal creeks flow throughout the property offering opportunities for fishing, kayaking and nature viewing. Salt marsh is an extremely biodiverse ecosystem and home to rare species, two of which have been spotted on the property: West Indian manatee (federally endangered) and wood stork (federally threatened). Protection of the property will create a contiguous block of protected land totaling roughly 1,200 acres.
Connected lands for greater conservation impact
The property is adjacent to University of Florida Foundation land and the City of Jacksonville Beach's Cradle Creek Preserve. It is located in the Northeast Florida Blueway Florida Forever project area, which means it is recognized by the state as being worthy of preservation.
Sanctuary for birds in troubled times
This property and surrounding properties are a bastion for avian life. A 2019 study from the journal Science found that 3 billion birds have been lost since 1970 due to a variety of threats including habitat loss, pesticide use and climate change. The study showed a decrease in bird populations across all habitats, except one – wetlands. Despite the overall decline in bird populations, there was an increase in birds using wetlands. This underscores the importance of protecting wetland ecosystems such as this one.
Bird species that overwinter on and around this property include plovers, warblers, and waterfowl among many others. According to the study, overwintering birds like these saw the largest population loss (Rosenberg, et. al., 2019). Since birds are part of the larger food web, this decline in bird populations signals danger for ecosystems overall, but with protection measures like preserving this property and others by NFLT, there is hope for the future. We can't do this work alone. We need help from YOU to make this transaction possible.
Help us raise the funds needed to save the Small Islands today!!
Interested in making a large gift or gift of stock?
Contact Megan Mangiaracino at mmangiaracino@nflt.org or 904-479-1967 and leave a message.
Checks to the Small islands project can be written to North Florida Land Trust with the memo:
Small Islands and mailed to 843 W Monroe Street, Jacksonville, FL 32202